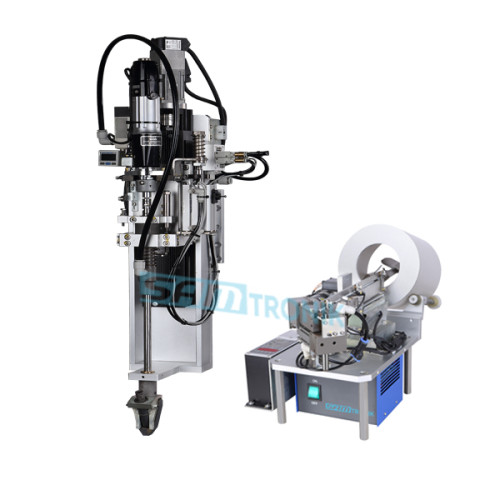 BM6-WZ Screw Tighten module
Item specifics
Machine dimension

L260*W150*H700mm
Machine weight

16kg
Screw feeding way

Blow First and Vacuum suction
Screw size

M1-M6
Description
BM6-WZ Screw Tighten module
1. The screw is arranged by linear vibration of the drum, divided by 45 degrees oblique angle, and sent to the lock chuck under the action of air pressure. The screw should satisfy the requirement of L>1.3D (L is the total length of the screw, D is the diameter of the screw).
2. It can automatically and accurately detect the floating lock phenomenon in the lock screw (according to the corresponding products, it can detect the floating lock problem of 0.3-0.5mm), so there is no need to set up special inspectors and procedures.
3. It has the function of automatically detecting whether the feeding material is in place and whether the screw is in place. It ensures that the screwdriver does not go down at will before locking the screw, and ensures that the processed products are not damaged by the screwdriver.
4. The locking system is small in size and suitable for locking with narrow space and interference around the screw hole, especially for the combination screw with elastic flat cushion.
5. The conveying screw is blown by air pressure and the locking device is vacuum adsorption, which can ensure that the processed products, especially electronic products, will not be contaminated with metal dust and dust. At the same time, because of the vacuum suction method to lock the screw, the lock can also absorb the dust and iron chips generated during the lock.
6. The module has Z-axis, which can arbitrarily specify the height of the locking screw face. It is very suitable for the inconsistent height of the product screw face. No additional Z-axis is needed to realize the modern operation mode of product diversification.
7. To deal with high-frequency wireless communication products or automotive electronic products, it can effectively solve the difficulties in the industry of the location of lock-in edge, subsidence, through-hole and the need for two displacement lock-in.
Machine
construction

Machine dimension:

L260*W150*H700mm

Machine weight:

16kg

Voltage:

AC 220V 50HZ

Air supply:

0.4-0.6 MPa

Temp :

-20℃-40℃

Electric device:

SMC&AIRTAC&CKD Pneumatic Component+KEYENCE Sensor+Panasonic Motor+THK Module

Screw feeding way:

Blow First and Vacuum suction

Screw lock speed:

2.0-2.2 sec/time(M3*8 screw as sample)

Control system(Option)

Main control program

PLC Control

HMI

Touch screen

Program input

Coordinate input

I/O Signal

32 INPUT/ 28 OUTPUTS

Communication

Serial port RS232C

Program storage

30 group (according to customer request edit program,program free switch)

Screwdriver

Brand

Japan HIOS screw driver

Torque

Adjustable (depends on customer request )

Application
range

Screw size

M1-M6

Screw length

2-30mm

Screw type

All type screws

Detection

Screw slip detection

Yes

Screw float detection

Yes

Screw leakage detection

Yes

NG Screw tighen detection

Alarm light + buzzer on