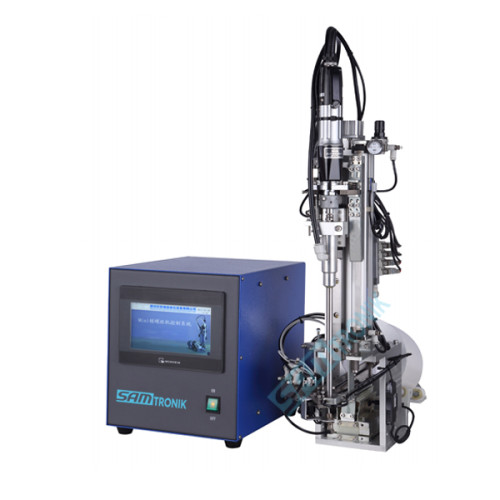 Item specifics
Machine dimension

442mm*220mm*770mm
Machine weight

13.5kg
Screw feeding way

Vacuum suction
Screw lock speed

1.5-2.5 sec/time(M3*8 screw as sample)
Description
1.Screws feeding from drum through screening chute rail , linear vibration to the screwdriver position (eliminate the material secondly pollution caused brush and other consumable materials). For long and short screw diameter, specific screw head or with elastic gasket flat pad, square tile, gaskets and other special shaped screws, could smooth feeding.
2. Automatically and accurately detect the floating lock phenomenon (according to the corresponding product, can detect 0.3-0.5mm floating lock problem ), so there is no need to arrange a special testing worker and procedures .
3.Machine with automatically detecting whether feeding material is in place, and whether it has screw or not function ,make sure that the screwdriver won't move down before screw tighten action, so as to ensure that the processed product is not damaged by the screwdriver bits.
4.The feeding system and the screwdriver part are integrated and modularize, which is suitable for high precision screw tighten request and stable automatic integration equipment environment requirement.
5.Screws with negative pressure adsorption and through filter during tighten process, guarantee the processed products especially electronic products is not contaminated with metal powder and dust. At the same time, vacuum suction fix and tighten screws method , can absorb dust and iron powder on screw.
Machine
construction

Machine dimension:

442mm*220mm*770mm

Machine weight:

13.5kg

Voltage:

AC 220V 50HZ

Air supply:

0.4-0.6 MPa

Temp :

-20℃-40℃

Electric device:

Koganei rodless cylinder, SMC&ADK&CKD pneumatic components, KEYENCE sensor, Panasonic motor

Screw feeding way:

Vacuum suction

Screw lock speed:

1.5-2.5 sec/time(M3*8 screw as sample)

Control system(Option)

Main control program

PLC Control

HMI

Touch screen

Program input

Coordinate input

I/O Signal

32 INPUT/ 28 OUTPUTS

Communication

Serial port RS232C

Program storage

30 group (according to customer request edit program,program free switch)

Screwdriver

Brand

Japan HIOS screw driver

Torque

Adjustable (depends on customer request )

Application
range

Screw size

M1-M5

Screw length

2-30mm

Screw type

All type screws

Detection

Screw slip detection

Yes

Screw float detection

Yes

Screw leakage detection

Yes

NG Screw tighen detection

Alarm light + buzzer on