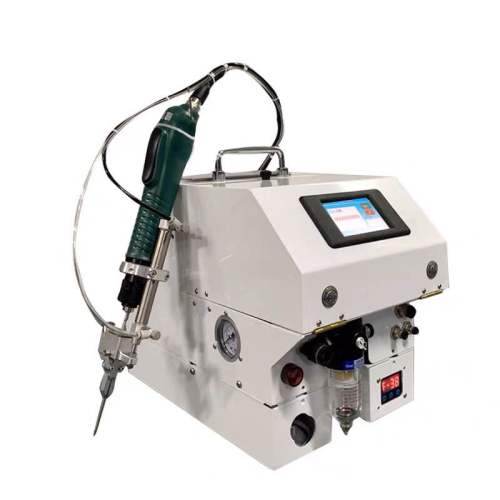 Handheld Screw locking machine with auto feeder system
Description
Applicable to all kinds of electronic products such as toys, mobile phones, telephones, calculators, navigation, dash cam, audio, video and other products screw tightening application.
1. High supply efficiency:Material speed up to 60 per minute, suitable for mass production,
save labor, save cost.
2. Good stability: screw one to send one, eliminate stuck material,Even if bad lead to material jam,
non - professional personnel can quickly solve the problem.
3. Only one hand operation is needed, and the screw lock and payment can be completed with a
gentle press, saving the time of taking and putting screws;
4. Easy to operate -- without professional training, novice can be skilled in operation, long-term operation will not be tired;
5. Flexibility and portability -- air feeder can be placed in any position where screws are needed.
Both on and off stage.
6.Touch screen: Direct contact screen control Settings, convenient and fast.
Machine size: 370 *220*280MM (L*M*H)
Working pressure: 4-6kgf
Operating voltage: AC220V 50HZ
Work efficiency: 50-80PCS/MIN
Conveying distance: 1-4 meter
Net Weight: 11KG