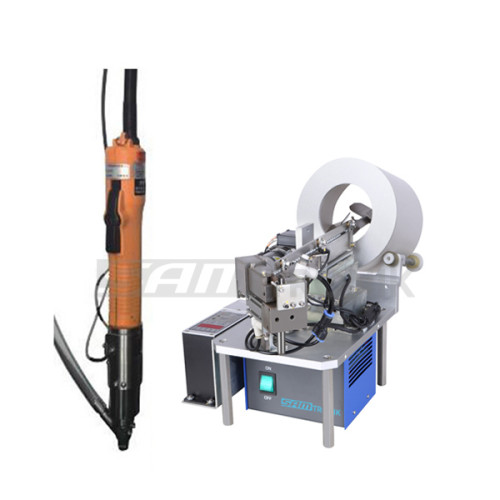 SM-4001 Handheld Screw Lock Machine
Item specifics
Machine Dimension

660*200*300mm
Screw Feeding method

Automatic
Feed

Automatic
Counting Function

Yes
Auto feeding Speed

0.3~0.5 Sec/pcs
Description
SM-4001 Handheld Screw Lock Machine
Keyboard, switch, socket, router, charger, calculator, remote control, plastic products, plastic toys and other screws intensive products .
1 . Small screwdriver, It's won't block workers operating vision .
2 . Light screwdriver , the workers won't feel heavy in operation.
3 .Below 50 decibel noise.
4 . Do not use the vibration plate, therefore the screw without vibration will not rub off.
5 . the weight is only about 9 kg, transportation is very convenient.
6 .With intelligent alarm function (acoustic-optic remind).
7 .Ergonomic handle structure, prevent slippery,good tactility.
8 .Convenient, the screw can make when a hand to help stay lock products, so can save a small product positioning fixture.
9 .Quickly, because it is completely eliminate hand, scraping screw, movement, screw on the screwdriver, no waiting time, just to be on the screw holes position lock screw.
10.Cleanly, due to save his hand to take the screw, won't cause the hand of stains on the product when you pick up the screw secondary pollution and hand sweat stains screws to make it easier to rust.
| | | | |
| --- | --- | --- | --- |
| Machine Dimension | 660*200*300mm | Screw Feeding method | Automatic |
| Screwdriver tips | Depends screw size | Feed | Automatic |
| Screwdriver weight | 220g | Counting Function | Yes |
| Input voltage | 220V | Auto feeding Speed | 0.3~0.5 Sec/pcs |
| Power | 20W | Lock Speed | 60~90 pcs/Min |
| Screw type | Any type | Feeder capacity | 3000~8000(pcs) |
| Applications screwdriver | Depends | Torque | Depend screwdriver |
| Screw size | M1~M6 | Torque precision | ±3% |
| Screw length | 2.0~50mm | Torque adjustment | adjustable |
| Parts Depth | 0~60mm | Rotation speed | 600~3000 |
| Working pressure | 2~5kg/cm2 | Conveying distance | 1M - 4M |